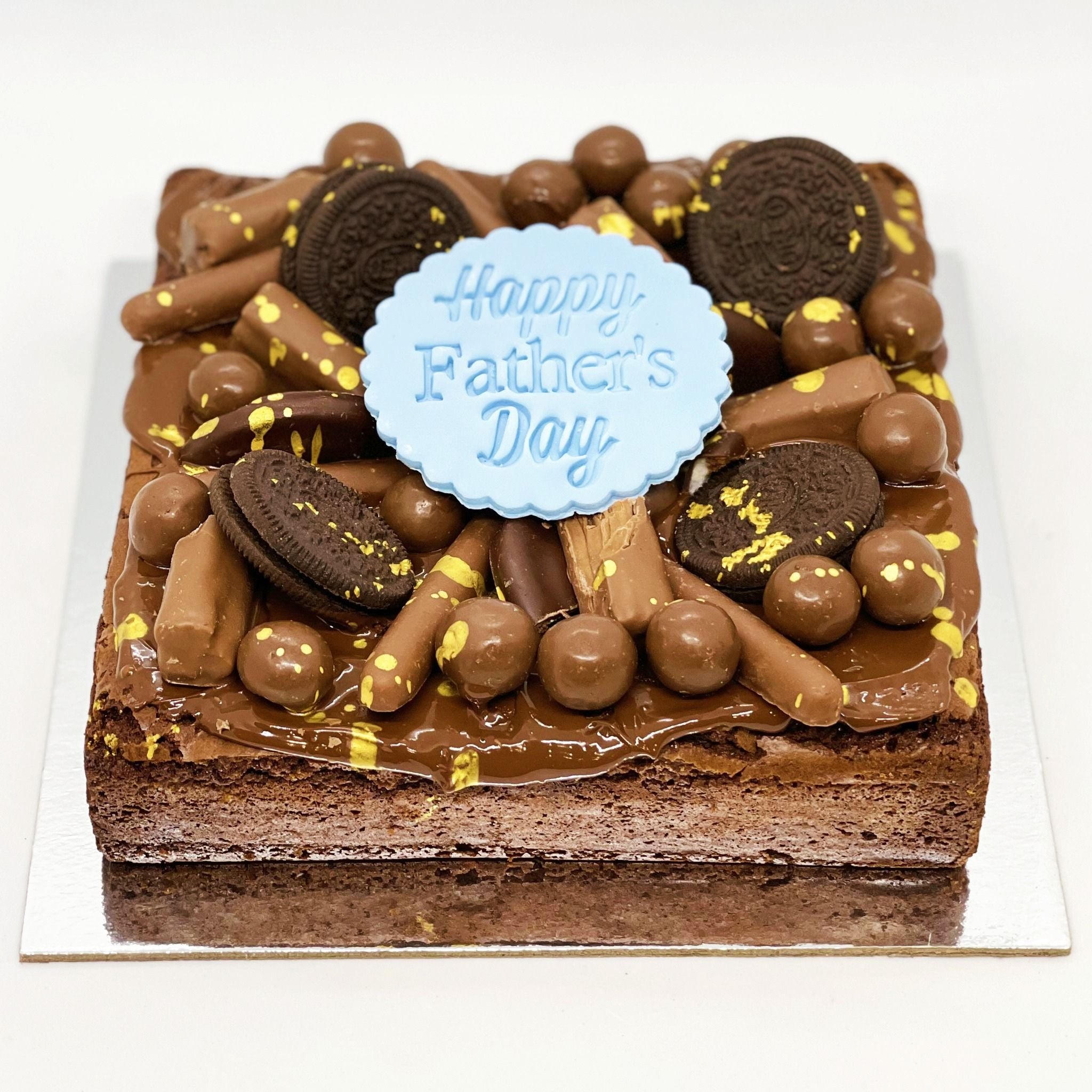 Father's Day Brownie
---
Our Father's Day brownie slab is rich, dense, and deliciously fudgy in the middle with a lightly crisp top. Made with couverture chocolate and decorated with yummy Oreos and gold dust, it's one treat that's sure to go fast. The Father's Day version comes with the Happy Father's Day plaque in blue included.

We deliver Father's Day brownies across Sydney

Read More...

Stuck for ideas when it comes to Father's Day? Nothing beats a box of delicious brownies. Made with love and the finest ingredients, everyone will love the taste on offer - not just dad! Look to us for a wide range of indulgent treats that never fail to impress. Whether it's for family, friends or even just yourself, The Cupcake Room has something special waiting to be found. 

Size

Delivered whole for you to cut as you choose. Best served at room temperature, and will keep better if left uncut when storing.

Approximately 7"  x 7" (17cm). Can be cut into approximately 12 generous pieces (as shown) or 16 smaller squares.

Ordering

We bake them fresh, so we'll need you to order before midday for next day delivery.

FAQ

Can you customise your brownie for dad?

Great question! We love working with customers to bring their delicious ideas to life. That's why we custom-make Father's Day brownies that look wonderful and taste amazing. Simply share your preferences with us and we'll get to work creating something just for you. 

Where can Father's Day brownies be delivered in Sydney?

We make shopping for Father's Day easy. The Cupcake Room delivers to all suburbs of Sydney and the wider Sydney area. This means you never have to stress about finding a present last minute ever again, because we'll come straight to your door. Order before midday for next day delivery. Got a question? Feel free to get in touch with our friendly team. 

Are Father's Day brownies available year-round?

Oh yes, they sure are! We know how much everybody loves our Father's Day brownies. That's why we happily make them all year round so you can get your fix. Enjoy a delicious bite, a gooey centre and all the rich choc that you can handle any day of the year.